Erick Fedde Is A Dude To Watch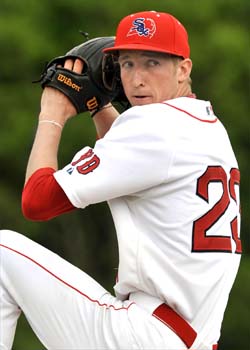 Erick Fedde is a rising Junior from UNLV who plays for the Yarmouth-Dennis Red Sox. I have seen his past two starts on July 3 and July 9. On July 3, he threw 7.0 innings, allowed 5 earned runs, 8 hits, walked 1 and had 5 strikeouts. On July 9, he pitched 4 innings, allowed 1 earned on 2 hits, 4 walks, and 3 strikeouts.
Body
He has long legs and arms, and broad shoulders. He was gifted with good pitcher's hands and his 6-4/175 lb. slender, flat-chested body indicates that there is plenty of room to add weight.
General Pitching
Fedde has a long arm action and tends to become an elbow climber in his windup. His 3/4 release slot tends to drop when throwing his slider, limiting the deception of the offering. Erick's mechanics appeared rushed but he is athletic enough to stay in control. I came away with the impression that Fedde had sound mechanics that work for him. He has a good feel for pitching and displays good poise on the mound. There was never a moment where he wasn't composed on the mound. He was aggressive in the strike zone with both his slider and fastball. He also showed the ability to pitch ahead.
Overall Control: 40 / 60
Fastball
His FB was anywhere from 91-96 in the two games, but he sat at 92-93 on average. His FB possessed solid-average glove-side run. This impressive glove-side run led to the tendency to miss out to RHH, but aided in his ability to pitch inside to LHH.
Fastball: 55 / 60
Velo Range: 92-93
Life: 60 / 60
Slider
His SL was anywhere between 78-83 and flashed as a potential out pitch. It possessed tight spin and mid to late break. When he was on top of it, it was a sharp offering. However, it was not thrown with the same arm angle, and the lowered arm angle limited the break, and the deception.
Slider: 50 / 60
Velo Range: 78-83
Change-up
He featured a split-change that he maintained the same, relative arm speed and arm slot as his FB. It was used as a show-me pitch due to his ability to dominate Cape League hitters with his velocity and SL alone. The development of his CH could lead to middle of the rotation potential. However, I do not see it as a projectable offering.
Changeup: 35 / 40
Velo Range: 83
OFP: 55
Draft Projection:
Fedde looks like a pitcher who could go somewhere between the competitive balance round and the third round, with the chance to possibly go in the first round with sufficient improvement to his change-up.
Summation:
In both starts, Fedde showed a good arm, and really showed an ability to spin the baseball. What's most promising for his future is that his changeup showed some potential for enough development to warrant consideration as a starter. In all probability, however, Fedde will wind up as a reliever, albeit one with a strong chance of a late-inning role.